INTRODUCTION
Democratizing college admissions
For a high school student, college admissions is a daunting task. On top of worrying about academics, extracurricular activities and all the miscellaneous things that go into applying for college, there is the cost associated with college admissions. Students have to pay for application fees, tutors and travel. And if a student wants the best and top notch counselor to help them get to the college of their dreams, expect to pay up to thousands of dollars. In short, getting into a student's college of choice is limited to those who can afford it.
In an effort to democratize the college admissions process, Greg Kaplan combined his years of experience as a college admissions officer and content from his nationally recognized book to create College Path, a program designed to deliver bite-sized pieces of information tailored to each student.
The power of College Path lies in its content. Greg delivers powerful and useful content for students from the 7th grade to 12th grade. Any student can now access Greg's college admissions advice.
‍
"I wanted to use technology to democratize the college admissions process and provide high quality college admissions advice at a price that everyone can afford" - Greg Kaplan
‍
BACKGROUND
Challenging the obvious
When Greg approached us with his content and his goal of democratizing the admissions process, he wanted to deliver it in a mobile application. Usually, a startup founder's immediate response when building a technological product is to create a mobile application. At Novvum, we wanted to challenge this assumption. While we specialize in developing mobile applications, we are obsessed with finding the best technological solution to a client's problem. At our core, we are problem solvers who uses the tools and principles of lean startup to serve our client's needs.
‍
PROCESS
We challenged ourselves with the question of whether Greg's target market would even use a mobile application.Tasked with this problem of finding the best delivery method for Greg's product, we went out to do extensive customer development. We talked to Greg's clients which includes both students and parents and potential customers outside of his client base. We approached high school administrators, educators and anyone who could have feedback about the college admissions process. Our team wanted to fully understand and gain insight about Greg's business and technological model. We used a combination of qualitative and quantitative surveys, phone and in-person interviews and focus groups.
At the end of our Discovery phase, we were surprised to find out that students and parents rarely use mobile applications. They cited that mobile apps were too clunky and usually doesn't provide value. Our team concluded that the best delivery method for students is text and email for the parents.
Armed with this knowledge, we went back to the drawing board to design Greg's prototype.
‍
‍
‍
‍
‍
PROTOTYPING & TESTING
The simplest answer is always the best answer
Instead of creating a complicated mobile application, we instead recognized the power of Greg's content and the importance of highlighting. The team created a landing page for Greg to test out our assumptions for College Path. We created the prototype for College Path using Adobe Experience Design and Webflow.
To test the product, we took a randomized sample of students from a local high school. Ten students along with 10 parents became the alpha test group for College Path. For four weeks, our team manually sent the content to the Alpha group. At the end of the test, we learned invaluable lessons that helped us with the product.
After a few more weeks of iterations and further user feedback, we were ready to launch College Path.
‍
RESULTS
On top of launching the product, the team helped with Greg's strategy that included using Google Adwords, analytics and its go to market strategy. Since its launch, College Path has acquired customers and a potential investor. It has also partnered with the district schools to implement its programs in its high schools.
‍
‍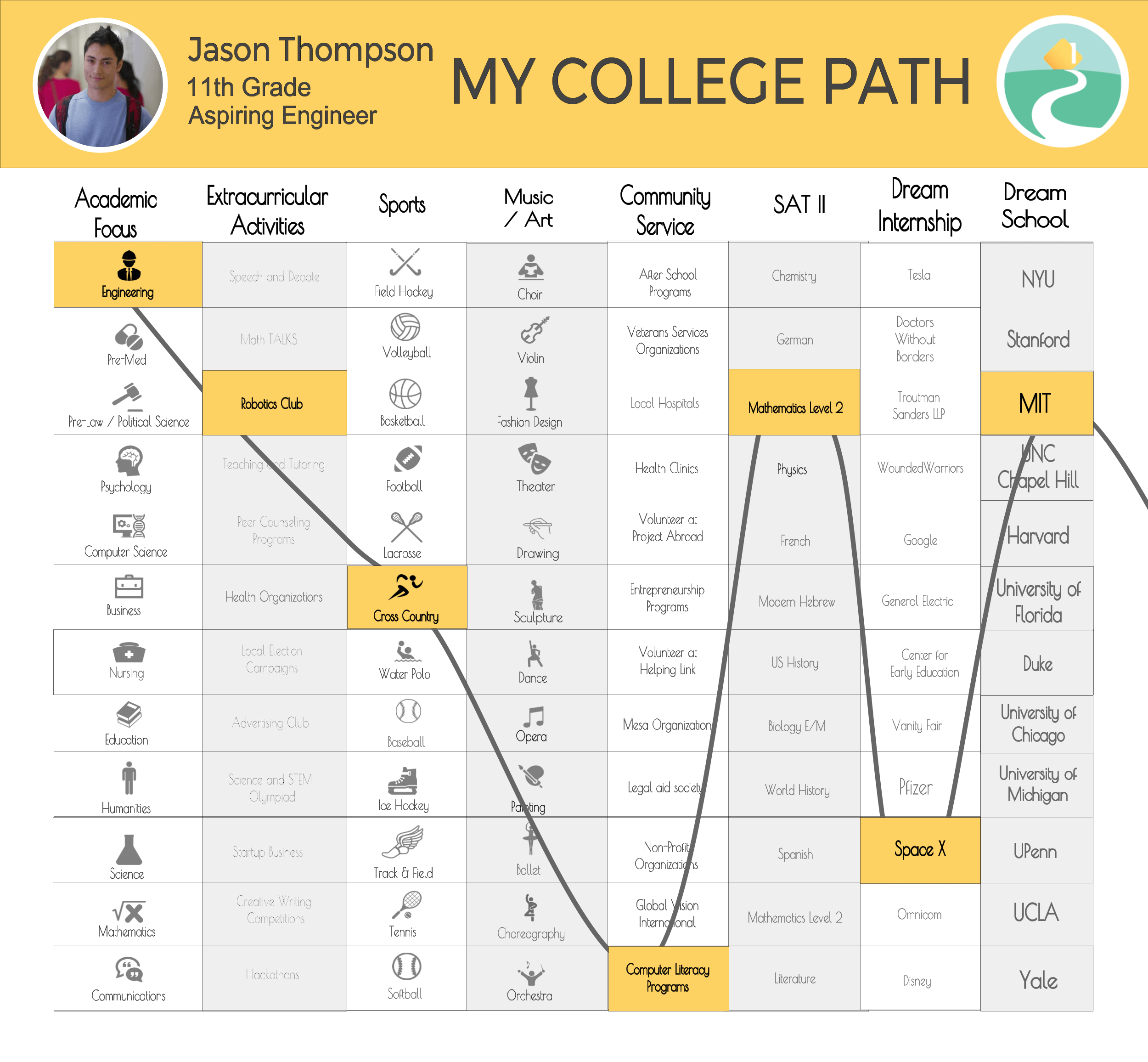 ‍